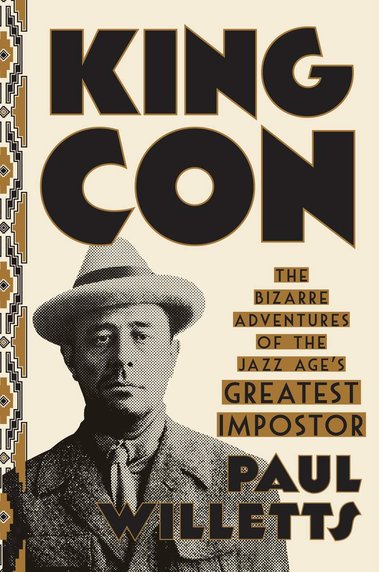 The spellbinding tale of the king of Jazz Age con artists—a real life cross between Tom Ripley and Jay Gatsby—who risks falling victim to his own dangerous game.
After several thankless years on the vaudeville and medicine circuits, the virtuoso singer, handsome young charmer, and smalltime grifter Edgar Laplante embarked upon the bravura performance that would earn him worldwide fame. In the fall of 1917, he reinvented himself as Chief White Elk: a buckskinned, feathered head-dressed war hero, sports star, civil rights campaigner, leader of the Cherokee nation—and total fraud.
Flirting with exposure and jail, Laplante travelled through the American West under the pretence of raising money for struggling Native American reservations. On the trail of even more lucrative opportunities, he crossed the Atlantic for an audience with the British king. Via the decadent nightclubs of Paris, the self-styled Prince Tewanna Rey, Chief White Elk then headed down to the French Riviera, where he instantly captivated a prodigiously rich Austrian countess, who wound up bankrolling his royal tour of Italy, which attracted vast crowds and made him a darling of Benito Mussolini's fascist regime. But Laplante's grandiose overreaching, which propelled him to these improbable heights, soon threatened to send him plummeting back to earth…
King Con brings this previously untold story to vivid and joyously absurd life, offering a lesson in how our longstanding obsession with celebrity can make fools of us all—and proving that sometimes truth is stranger than fiction.
Reviews
The Spectator' USA "Books of the Year 2018" choice

Amazon.com's "Best Books of the Month" choice for August 2018

The Guardian's December 2018 books choice

Crimereads's "Essential True Crime Books" for August 2018

Saga magazine's "Non-Fiction Book of the Month" for August 2018

Crimesquad.com's "Top Ten Christmas Book Recommendations" for 2018

Bloomberg Quint's "Five Books for Connoisseurs of Con Jobs"

Time Magazine's "Fourteen Books About Con Artists To Feed Your Obsession With Scam Stories"

"This Jazz Age imposter's life makes for quite a story, and in King Con, Paul Willetts knows just how to tell it."—Michael Dirda, The Washington Post

"I've been savouring Paul Willetts's highly enjoyable new biography King Con. Willetts's usual blend of deep research and lively storytelling sucks you straight into this picaresque tale of the conman Edgar Laplante or Chief White Elk as the shameless would-be Native American styled himself while swindling his way across the USA in the Jazz Age. With every twist the story of Laplante's life grows harder to believe but, unlike the tall tales he told his victims, it's all true."—Keiron Pim, Spectator USA, Books of the Year, 2018
"I was astonished by Paul Willetts's King Con, a real story about an absurd, fascistic fraud. (Can't think why that resonated.)"—Sam Jordison, The Guardian, December 2018 Books Choice
"The absorbing take of a Jazz Age grifter named Edgar Laplante… brings fresh significance to the ancient profession of the con artist… Willetts weaves a fast-paced, intriguing tale. With the rise of identity theft, celebrity worship, and manipulative social media, this sprightly story of a legendary con artist's outrageous successes becomes a cautionary tale for the digital age."—Kirkus Reviews
"In this extensively detailed biography, Willetts traces the brazen and bizarre life of Edgar Laplante, an early twentieth-century drifter and conman extraordinaire… [Willetts] keeps the narrative alive with colourful anecdotes from Laplante's remarkable life."—Publishers' Weekly
"Paul Willetts tells the intricate story of Edgar Laplante's misadventures and complicated swindles, drawing an expert portrait of both the time period and the man. It's a useful reminder that America has always belonged to the con artist."—Lithub.com
"King Con is as engaging, ambitious, and colourful as its shady protagonist… Willetts has dug deep into newspaper archives and investigative files to accomplish what the authorities on two continents failed to do almost a century ago—unravel Laplante's trail of brazen fraud and deceit."—Ellery Queen's Mystery Magazine
"Paul Willetts tells the bonkers story of Edgar Laplante, a charming vaudeville performer who left behind the disappointing world of showbiz to reinvent himself as Chief White Elk… [who later embarks on] a rip-roaring trip through Italy."—Time Magazine, "14 Books About Con Artists To Feed Your Obsession With Scam Stories"
"A story so bizarre—and compulsively told—that my jaw remained anchored to the floor throughout."—John Preston, bestselling author of A Very English Scandal and The Dig
"…a minutely detailed study of a man who is enjoyable to read about, but whom no one with a full complement of senses would ever wish to encounter… The author pins down his egregious subject with crisp objectivity."—Jonathan Meades, Country Life
"King Con is about Edgar Laplante, an extraordinary man whom Paul Willetts brings to life. It says 'rollicking' on the back cover quite a few times. It's a rollicking read. I feel rollicked."—Jason Solomons, BBC London
"King Con is an amazing book… an engrossing and exciting read. It's hard to put down as the reader devours Willetts' descriptive passages about an implausible life running off the tracks."—Providence Journal
"The 1920s was a decade of swindles—and one con artist out tricked them all… this is a story about unscrupulous deception told with a scrupulosity that is admirable."—The New Statesman
"A vivid biography of Edgar Laplante… [whose] story, particularly as told by Willetts, is fascinating for a number of reasons—some universal, some unique."—The Times Literary Supplement
"A fast-moving tale of an inveterate scammer, which is every bit as gripping as fiction."—Saga magazine
"They say that fact is stranger than fiction and that saying cannot be truer than in the case of Edgar Laplante. The guy was a con artist extraordinaire and, boy, did he manage to pull the wool over peoples' eyes—and make a massive fortune at the same time. Even if you are not a fan of biographies, you must read this one."—Crimesquad.com

"Let's be honest—tricksters make for gripping reading. So here are five books that you might find appropriate for our times: King Con by Paul Willetts… The cons escalate in audacity and absurdity until Laplante all but walks with kings."—Scott Duke Kominers, Bloomberg Quint
"Willetts's research is impeccable. He also writes clean, fluid prose and his descriptions of Paris, Naples and Florence in the 1920s are superb."—Winnipeg Free Press
"[Edgar Laplante's] extraordinary story is the subject of Paul Willetts's new book, written, as with his previous books, including Rendezvous at the Russian Tea Rooms and Members Only (filmed, starring Steve Coogan, as The Look of Love) with all the detail and narrative drive of a novel."—Simon Evans, Choice magazine
"Amazing, absorbing, and phenomenally well-researched, King Con is a compelling story that proves truth is far, far stranger than fiction: a picture of an America so naïve and gullible it's hard to imagine. Not a page is turned without the reader learning something that astonishes and enthrals."—Paul French, New York Times bestselling author of Midnight in Peking
"Willetts describes the incredible exploits of Edgar Laplante in wonderful detail using a fun, novelistic style."—Kevin Moore, Can't Make It Up History Podcast
"Paul Willetts's King Con takes readers on a rollicking ride—a tale of fake celebrity and ingenious cons by an inventive Jazz Age grifter that resonate across the decades to this particular moment in America with an unsettling relevance. Readers will be amused, entranced, and, I'm certain, left shaken."—Howard Blum, New York Times bestselling author of The Last Goodnight and In the Enemy's House

"Paul Willetts's King Con is one hell of a rollicking good read. A fabulous tale of one of the all-time great con artists, pulled off with great verve and style. A Jazz Age classic!"—Alex Kershaw, New York Times bestselling author of Avenue of Spies and The Liberator
"Anyone who thinks celebrity culture is a new phenomenon should read King Con. Drawing on a vast range of sources, Willetts has pieced together a rich and bizarre Jazz Age story of the century's most shameless confidence trickster… The cons are astounding but the escapes are even more outrageous. Whether he's peddling postcards or hoodwinking royalty, Laplante remains a fascinating figure. A brilliant feat of research is turned into a racing read."—Christopher Fowler, author of the Bryant and May series of crime novels
"Paul Willetts's biography is as colourful as its subject… Like all great and infamous cons, Edgar [Laplante] exists at some intermediate spot between common liar and mythic trickster, making him endlessly compelling, though despicable. Willetts's well-researched biography brings him to our attention once more; and attention, even more than wealth, was what Chief White Elk craved most."—Fortean Times four-star rating
"Think Charles Ponzi was slick? Edgar Laplante, a.k.a. Chief White Elk, was an imposter extraordinaire who hoodwinked audiences and newspaper readers across America and Europe. Paul Willetts spins the rollicking tale of this audacious conman with wit, razor-sharp insight, and dazzling storytelling. Hang on for a wild ride…"—Dean Jobb, author of Empire of Deception
"I simply loved Members Only, Willetts's wickedly funny book about Paul Raymond, porn baron and King of Soho. Willetts has a real gift for writing about compelling but repellant characters and making you care about what happens to them. King Con is about another of these fascinating monsters."—Catherine Arnold, bestselling author of Necropolis: London and Its Dead
"King Con is a riveting account of a Jazz Age grifter whose grandiose ruse of a life can only be described as fascinatingly ludicrous! A mesmerising and enjoyable read."—Suzanne Rindell, bestselling author of The Other Typist and Eagle and Crane
"You might justifiably pick up King Con to travel back in time to the ultra-charming Jazz Age, but long after you've been pulled into the vortex of this riveting and deliciously strange tale, what will stick with you is the astonishing audacity of Edgar Laplante's all-consuming, decade-plus-long grift. An uproarious read."—Dave Howard, author of Chasing Phil and Last Rights
"A terrific subject, crying out to be turned into a film, and the author has made the most of it in this gripping and well-researched book."—Andrew Lownie, author of Stalin's Englishman: Guy Burgess, the Cold War, and the Cambridge Spy Ring