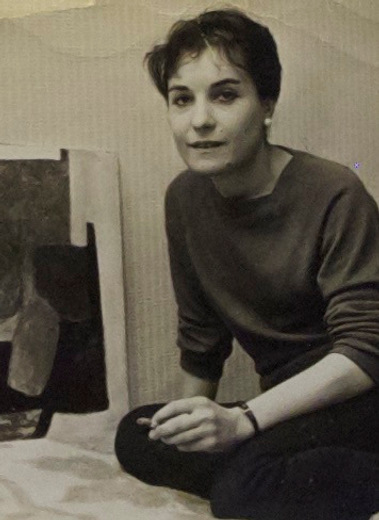 My mum, Ruth Willetts (1931-2000), was born in London, the second child of a working-class East Ender employed at Billingsgate Market. There, he proceeded to set up a fish wholesale business that supplied most of the Soho restaurants.
On leaving school, Ruth worked in the rag-trade and on a kiosk at Battersea Funfair. In 1951 she began a fashion diploma course at St Martin's School of Art, situated at that time on the edge of Soho, an area she always loved.
Within a 1950s magazine feature about Cy Laurie's Jazz Club and other cradles of rebellious young fashion, I recently came across a photo of her and other fashion students, posing in a variety of baggy knitwear. Above the picture was an unintentionally hilarious caption: 'Students of costume and psychologists alike may wonder why young people wear such clothes. The answer may simply be that "they get a kick out of them".'
At some point Ruth transferred to the fine art course at St Martin's, where she studied under such notable painters as Frederick Gore and Bateson Mason. Among her life-room models were the Soho characters, Quentin Crisp and Ironfoot Jack, drawings of whom can be found in her surviving sketchbooks. Her St Martin's contemporaries included the cartoonist Mel Calman, the painter Frank Auerbach, and the future novelist Len Deighton who had, oddly enough, grown up next-door to Anna Wolkoff, one of the main characters in my book, Rendezvous at the Russian Tea Rooms.
When Ruth completed her course in 1955, she was accepted for the prestigious postgraduate course at the Royal Academy Schools. During her time at the R.A. Schools, she won three major prizes: a Leverhulme Award, the David Murray Landscape Award, and the Landseer Medal for Drawing.
After finishing her course in 1959, she taught at St Martin's, where the sculptors Anthony Caro and Barry Flanagan were also members of staff. James Ravilious (the photographer and son of Eric Ravilious) and Christiane Kubrick (wife of the film-director Stanley Kubrick) were among Ruth's students. At St Martin's she formed a lifelong friendship with a fellow teacher – the painter Olwyn Bowey, who introduced her to the much older artist Carel Weight. Ruth's London circle also embraced the designer Abram Games; the painters Rodrigo Moynihan, Ruskin Spear, Vivian Pitchforth, and Peter Blake; plus the theatre producer Chloë Gibson, who discovered Dirk Bogarde and hosted regular showbiz parties, attended by the likes of Robert Shaw and Dandy Nichols.
Having dated the burglar-turned painter Malcolm Morley and the writer Bernard Kops, she married my dad, who had been at the Royal Academy Schools, too. In 1960, L.S. Lowry was part of the judging panel that awarded her the Harrogate Festival Painting Prize. Her painting also won top prize in a competition run by A.B.C. Television and Studio – the leading art magazine of that period – which reproduced the picture on its cover. The competition earned her a short scholarship to the British School in La Dolce Vita-era Rome.
For several years after my birth, she stopped painting and drawing. By the time she resumed work, she was unable to regain that early momentum, though she continued to exhibit on a regular basis, notably at the Cleveland International Drawing Biennale, the John Moores Painting competition and the Royal Academy Summer Exhibition. Her work is held in the collections of Durham University, Uniliver and other institutions.
Not long after retiring from a teaching career that featured part-time stints at Trent Polytechnic, Derby Lonsdale College of Art and Loughborough College of Art, she suffered kidney failure and ended up on dialysis. She died four years later.
View slideshow: sketchbook selection, 1952-2000 (all images © the Estate of Ruth Willetts)
David Willetts (1939-), my dad, grew up in Birmingham, where my grandad worked on the car production line at Longbridge. Both my grannies had earlier worked as musicians in cinemas during the silent movie era.
Aged thirteen, David left secondary school and, along with his friend, Peter Phillips, enrolled at junior art school, which provided their route into Birmingham School of Art. They eventually decamped to postgraduate painting courses in London – the Royal Academy Schools in David's case and the Royal College of Art in Peter's. For David, studying at the R.A. Schools was made feasible by the fact that students were not expected to pay any fees. During the three-year course, he did nonetheless have to support himself by working full-time each night as a waiter at the Studio Club. Based on the edge of Soho, this was a drinking den patronised by artists and writers, among them Bruce Lacey and Henry Williamson.
At the R.A. Schools, David's contemporaries encompassed students whose work was as varied as John Hoyland and Bryan Organ. 'Another interesting character,' David recalls, 'was Eric Hebborn, the forger of Renaissance drawings. I only ever saw him walking up and down the main corridor looking decidedly shady. He was probably already up to his tricks.'
Throughout the first year, David shared a flat with his friend, the painter Michael Upton, who was an integral part of Patrick Proktor and David Hockney's social circles. Years later, Michael would go on to enjoy a brief parallel rock career in the Flying Lizards. He and David, plus Peter Phillips, subsequently shared a first-floor flat at 58 Holland Park Road. 'It was pretty chaotic,' David says. 'The bathroom was full of wine bottles. Our flat became a regular meeting place for our friends, for people like Allen Jones and Patrick Caulfield. In our last year of the course, you didn't have to be at the R.A. Schools that often, so we used the place as a studio. I can still see Peter sitting in the flat painting The Entertainment Machine, that picture now displayed in Tate Britain. While he was there, he also painted For Men Only – Starring M.M. and B.B., which is in the Gulbenkian museum in Lisbon.'
Both Peter Phillips and the Holland Park Road flat feature in Pop Goes The Easel, Ken Russell's classic documentary about the beginnings of the British pop art movement. Coincidentally, the house is next-door to the address that was, two decades earlier, central to the Woolwich Arsenal spy-ring, investigated by Maxwell Knight, the MI5 officer at the heart of my fourth book, Rendezvous at the Russian Tea Rooms.
On leaving the R.A. Schools, where he met my mum, who was also a student there, David landed a job teaching on the fine art course at Nottingham School of Art and Design, which later became Trent Polytechnic and, later still, Nottingham Trent University. His fellow teachers on what became known as a famously innovative study program included the conceptual artist, Victor Burgin; the sculptor, John Clinch; and the wildlife artist, David Measures. Their work was supplemented by an array of part-time tutors, ranging from the painter Michael Craig-Martin to the composer Michael Nyman and the experimental architect and co-founder of Archigram, David Greene. Nottingham's fine art course went on to spawn an impressively successful roster of students such as David Batchelor, Keith Piper, Donald Rodney and Alison Wilding, not to mention Tim Noble and Sue Webster.
Although David – who split up from my mum when I was about eight years old – spent the whole of his art school teaching career in Nottingham, he has produced a steady output of paintings and drawings. Work of his appeared in the touring British Art Show, as well as in group shows at the Ikon Gallery in Birmingham, Camden Arts Centre in London, and the Museum of Modern Art in Oxford. His solo exhibitions include a show at the Mercury Gallery on Cork Street, in those days the centre of the art-dealing world. Pictures of his can be found in the collections of the Arts Council, the Victoria & Albert Museum, the Government Art Collection, the National Gallery, the Contemporary Art Society and the Nuffield Foundation. His pictures have also attracted collectors such as the painter Michael Ayrton and the former Tate Gallery Director, Sir Kenneth Clark.
He remains addicted to painting and drawing – just as I'm addicted to writing.
View slideshow: sketchbook drawings, 1954-1958 (all images © David Willetts)
For sales or other enquiries, David Willetts can be contacted at willettsandphillips@tiscali.co.uk.